About Dystonia
At SoCal MDS, we currently treat generalized and focal dystonia.
Dystonia is a neurological movement disorder, in which muscle contractions cause twisting and repetitive movements or abnormal postures. The disorder may be hereditary or caused by other factors such as birth-related causes, physical trauma, infection, poisoning, or reaction to medical drugs. Treatment is difficult and has been limited to minimizing the symptoms of the disorder. There currently is no cure for dystonia.
Symptoms vary according to the kind of dystonia involved. Dystonia tends to lead to abnormal posturing when still and moving. Many sufferers have continuous pain, cramping and constant muscle spasms due to involuntary muscle movements. Dystonia affects about 1% of the population, and women are more prone to it than men.
Cervical Distonia
Cervical Dystonia affects the neck muscles, causing the head to twist and turn or be pulled backward or forward. It can be treated with
Botulinum toxin (Xeomin, Botox, Dysport or Myobloc)
.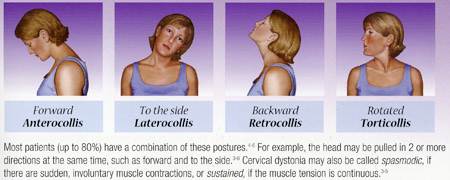 Generalized dystonia is a very rare disorder and it affects the entire body.
Belpharospasm effects the eyes.
Tardive dystonia is caused by a reaction to a drug and are treatable and temporary.
Spasmodic dystonia affects the throat muscles that are responsible for speech.

• Acute Dystonic Reaction
• Focal
• Segmental
Oromandibular dystonia dystonia causes spasms of the jaw, lips, and tongue muscles and can effect speech and swallowing.
Musicians dystonia
Writer's Cramp is a type of dystonia that only occurs while writing. It affects the hand and/or forearm muscles.
Dr. Lisk Discusses Cervical Dystonia & Treatments
Botulinum toxin Myobloc™ (also known as Rimabotulinumtoxin B) is an injectable solution for the treatment of cervical dystonia. Watch Dr. Jerome Lisk M.D. discuss Myobloc™ in this video created by Tremor Action Network (http://www.tremoraction.org).
Educational Websites
Care4Dystonia
Care4Dystonia's goal is to create immense media awareness about dystonia and strive towards a collaborative network with other dystonia non-profits, which has yet to be accomplished with all groups on a consistent basis. They have created a dynamic social networking campaign that focuses on educating others about dystonia as well as provide information for patients and their families. They have an active forum where people chat about movement disorders.
Dystonia Medical Research Foundation
The Dystonia Medical Research Foundation (DMRF) is a non-profit organization dedicated to serving all people with dystonia and their families. Since its inception, the DMRF has grown from a small family-based foundation into a dynamic membership-driven organization run by people who've had their lives changed by dystonia. Because dystonia hits so close to home for their directors and volunteers, the DMRF leadership is motivated by an unrelenting drive to find a cure and a commitment to serving people affected by dystonia.
National Spasmodic Torticollis Association
Over the years, NSTA has helped thousands of people in their search for relief from the pain and disability caused by spasmodic torticollis. The mission of the National Spasmodic Torticollis Association is to support the needs and well-being of affected individuals and families.
Dystonia Coalition
Rare Disease Clinical Research Network — The Dystonia Coalition is a collaboration of medical researchers and patient advocacy groups whose goal is to advance the pace of clinical and translational research in the dystonias in hopes of finding better treatments and a cure. Learn about how you can participate in clinical research to help with the effort to learn more about your condition. Get in contact with experienced doctors, as well as other people with your condition who may wish to share their knowledge and experience through patient support groups.
National Spasmodic Dysphonia Association
The mission of the National Spasmodic Dysphonia Association is to advance medical research into the causes of and treatments for spasmodic dysphonia, promote physician and public awareness of the disorder, and provide support to those affected by SD.
The Global Dystonia Registry
The Global Dystonia Registry supports future dystonia studies — including clinical and research trials — through the collection of data on persons affected by dystonia. Although the focal dystonias have many different manifestations, most experts believe they share a common mechanism that causes the disorder. Collecting information from different patient populations may help us identify the common features that they may share. Participation is voluntary and the parameters of each study will be defined by participants.