Deep-brain stimulation (DBS)

Deep brain stimulation was first developed in France in 1987. The U.S. Food and Drug Administration approved DBS as a treatment for essential tremor in 1997, for Parkinson's disease in 2002, and dystonia in 2003. The process to start DBS surgery starts with a visit to a movement disorder neurologist who has training in pre-surgical screening for disorders

Those patients who have Parkinson's disease should be especially screened to rule out Parkinson's plus syndromes like multiple system atrophy, progressive supranuclear palsy, corticobasal ganglionic degeneration, diffuse Lewy body dementia or other syndromes that may be made worse with DBS surgery.
See a movement disorder neurologist first
Parkinson's patients require a neuropsychological evaluation to rule out any dementia or neuropsychological disorders that might exclude them from having the procedure. After patients have been properly screened by a movement disorder specialist and determined to be a candidate for DBS they are then sent to a neurosurgeon who performs the operation. Neurosurgeons are trained in deep brain stimulation by doing a fellowship in stereotactic functional neurosurgery. They become experts in DBS surgery but they are not trained in distinguishing between the different Parkinson's syndromes. Also since not all idiopathic Parkinson's patients are candidates for DBS surgery, all patients should be screened by a movement disorder neurologist. Remember that the medical boards to not stop community neurologists not fellowship trained in movement disorders from advertising themselves as movement disorder neurologists. So always ask if the neurologist has done a fellowship in movement disorders or go to a neurologist that is on staff in the movement disorder department at a university, where they specialize in movement disorders.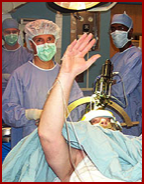 In deep brain stimulation, electrodes are placed in the brain and are connected by wires to a type of pacemaker device (called an impulse generator, or IPG) implanted under the skin of the chest. In certain periods during the surgery the patient is awake and asked to perform tasks or answer questions to assess lead placement and stimulation side effects. The surgery takes anywhere from 1 1/2 hours to 3 hours, depending on the diagnosis being treated, and the time duration can also depend on the experience of the surgeon. The duration of surgery also is longer if both sides are being implanted with a stimulator. Most surgeries have a neurologist or neurophysiologist monitoring cell activity for more precise localization. Patients can be excellent candidates but have suboptimal lead placement, providing fair to good but not the best possible results. The location of the devices is extremely important and cannot be overcome with programming.
Once the correct location is identified, the electrodes are implanted permanently. The loose ends are placed underneath the skin of the head and the incision is closed with sutures. The patient receives general anesthesia for the placement of the impulse generator in the chest and the positioning of extension wires that connect the electrodes to the impulse generators. Once activated, the device sends continuous electrical pulses to the target areas in the brain. It may take a few weeks until the simulators and medications are adjusted sufficiently for patients receive adequate symptom relief.